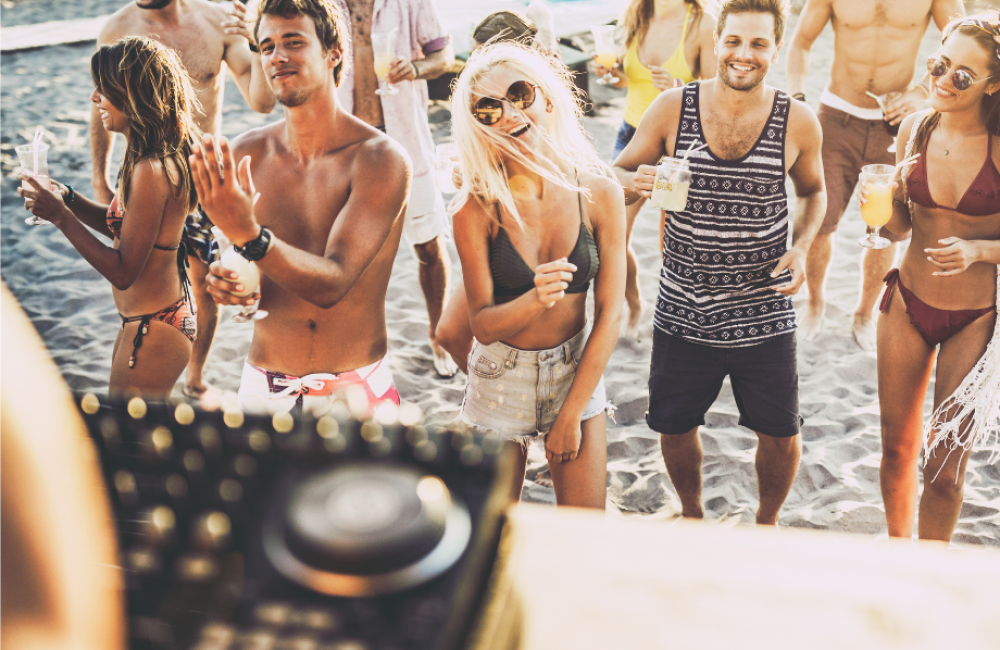 In this post you'll find:
Catchy, with simple lyrics and a great beat they are hated by some, but danced by many. In this blog post we'll show you a part of the Spanish pop culture which will let you dance and sing along while practicing your Spanish: the summer hits or las canciones del verano. 
But wait a second, what is exactly la canción del verano? The answer is really easy, la canción del verano – literally the summer song-  is the biggest hit during the summer season. It's the ones that everyone dances to and it's played at every party, that song that's on every radio station and whose lyrics you know by heart even if you think it's horrible. In this post we're going on a trip through time thanks to the most popular summer hits of the past years. After reading about them and listening to them you'll get why Spanish people go crazy when they're played at a club.
Summer hits from the 90's in Spanish
We start our trip in the 90's. If there's a song that has reached many generations and crossed borders, that song has undoubtedly been Macarena. In 1993 the musical duo Los del Río -after almost 30 years in the music industry- achieved their biggest success in their whole career thanks to this song. It tells the story of Macarena, a young woman who is unfaithful to her boyfriend and dreams about living in New York and having a new boyfriend. The chorus of this song, the part that keeps repeating and the only one most of us really know, the singers encourage Macarena to enjoy her sexuality using expressions like "darle alegría al cuerpo" and "darle cosa buena". In the last three decades it has been covered numerous times and it has appeared in movies, a Democratic National Convention in the USA in 1996, in the Atlanta Olympics and in the Super Bowl.  Do you remember the steps? If you want to learn more about this social phenomenon you can watch this feature.
After this flamenco tecno pop we're moving on to 1997, when the Catalan group Jarabe de Palo got famous with their hit La Flaca. Everyone who knows this song can identify it just by hearing the first guitar chords. In this song Pau Donés, the vocalist, talks about a woman whom he calls la Flaca (the skinny) who has him "loquito" (crazy) and he says that he would give anything for a kiss from her. A pop rock song with Cuban vibes which was played over and over on the radio and TV and it's still considered a great song.
If you want to dance to a merengue song, you need to listen Suavemente, by Elvis Crespo, an American singer with Puerto Rican family. In this 1998 song we can hear Elvis Crespo's signature catchphrase "Pequeña, échate pa' ca", which means something like 'Come over here, girl'. Here the singer asks repeatedly and throughout the whole song a kiss from the girl he fancies. A direct and simple message, but it has a rhythm you cannot resist moving to.
We finish this decade with the Spanish group Estopa and their first hit in their career, La raja de tu falda. The Muñoz brothers are very popular in Spain and they have numerous hits, but no hit as sung and remembered like this one. In this song they talk about the different problems they have because of a girl's skirt. Yes, it does sound ludicrous, but that's the subject of the song. If you struggle to understand the lyrics, we recommend you watching the official music video you have down below. Once you've watched it, you'll understand the story with no problems.
Summer hits from the early 00's in Spanish
And we reach the new millennium -the year 2000- with a song that keeps following us at every club and party all around Spain. In this country we all have danced to the beat of Bomba by King África and we have tried following the steps. Don't let their name and style fool you, this band is from Argentina. Don't try either to make any sense of the lyrics, there's no story behind, you just need to repeat the word bomba over and over. The expression ser la bomba in Spanish means to be great. ¡A bailar!
Let's continue with more songs that you can't get out of your head in the year 2001, summer in which Sonia y Selena made us dance to the beat and dance steps of Yo quiero bailar. If you want to fit in a Spanish summer party, you just need to learn the chorus. Remember: "Yo quiero bailar toda la noche. Baila, baila, bailando, va. Baila, baila, bailando, ¡hey!"
We move on to the year 2002 when we had so many summer hits that would be impossible to include them all here. We have picked two of the many songs played during that summer. David Civera represented Spain in the Eurovision Song Contest with Que la detengan and he ended up in one of the best positions of the last decades, in 6th place. The song, like every summer song, has some steps you can follow along. It's another love song or, in this case, a lack of love song. The story is as simple as the choreography: guy meets girl and spends the night with her, girl ignores guy and guy gets mad.
The last song might be new for you, but we assure you that you know this one. You might not have sung it, but you've definitely danced to it many times. It's the Macarena of the twenty-first century, the Spanish song that all of us want to get out of our head, but it's just impossible.  Las Ketchup became famous worldwide with their Aserejé in the year 2002. If the chorus sounds familiar to you, it's because this song started as a parody of Rapper's Delight by the hip hop band The Sugar Hill Gang. In this case they tell the story of a night of parting with Diego, the main character of this tale whose favorite song is Rapper's Delight ("para Diego la canción más deseada").
We arrive at the end of the first decade of the 21st century with the South Africa World's Cup official song in 2010: Waka, waka. Shakira recorded an English version and a Spanish one, which got really famous in every Spanish speaking country and reached international success. In the official video we can see many football players from the competing teams in that year's championship and the dance steps for the chorus. Have you ever tried dancing like Shakira to one of her songs?
Summer hits from the second decade of the 00' in Spanish
Latin music is always very popular in and outside the Hispanic community, and the Puerto Rican Marc Anthony has been one of the main figures for the last two decades. In 2013 we all danced to the salsa song Vivir mi vida, a tune full of optimism with a clear message: Enjoy life! Here you have the official video, the song starts at 01:03.
Enrique Iglesias is one of the most famous Hispanic artists and, even though many have sung Hero at karaoke night, his biggest hit has been Bailando, which became a summer hit in 2014. With all the basic elements of this kind of music, it's a very simple "love" song that invites us to hit the dance floor.  
Luis Fonsi's case is similar to Los del Río with their Macarena. This artist had been in the music industry since 1995 and, even though he was quite popular, it wasn't until the year 2017 when he reached international success with Despacito. The funny thing is that, until that moment, he had sung love ballads, like Imagíname sin ti. After Despacito his musical style changed and he has kept making songs to dance to and he has collaborated with international artists.
In 2018 the Colombian singer Maluma made us dance with his Felices los 4, where he tells the story of a polyamorous relationship with a reggaeton beat: "Si con otro pasas el rato, vamos a ser felices los 4". If you have any questions about the meaning of this song, we recommend you watching the official music video and afterwards you'll understand who those four people he keeps singing about are.
Most recent summer hits in Spanish
We're getting closer to the present with the biggest summer hit from 2022. We're referring to the collaboration between the Canarian urban artist Quevedo and the Argentinian musical producer BZRap. Quédate was played nonstop at clubs, TV, etc. It tells the classic story: boy meets girl, but at a party. It's funny to think that the chorus we've all sung was the part that Quevedo himself wanted to leave out of the song. Would have it been that popular without the famous "QUÉDATE"? 
And we reach the end of our trip in 2023 with Vicco and her Nochentera, (noche entera o toda la noche). An electro pop song with eighties vibes which was made for entering the Benidorm Fest the same year. What's the Benidorm Fest? It's the Spanish contest they hold every year to pick the Spanish candidate for the Eurovision Song Contest. Even though Vicco didn't win the competition, she's clearly the winner of this year's summer hit.
We hope these songs got you closer to Spanish pop culture and you used them for practicing your Spanish and your dance moves. If you'd like to learn more about Hispanic music and its most iconic artists, listen to our podcast series Ritmos y raíces.
A podcast about Hispanic music artists. Juanjo introduces you to a world of different music styles and gives examples of the best songs from each artist or era. Of course, you get to know the artists' biography and some intriguing info.
In addition to learning Spanish, you will also learn about Hispanic culture and music.