We Accompany You on Your Way to Spanish Fluency
Welcome to Hablemos Español!
My name is Frank Sellingsloh, and I've been the Director of the FU International Academy since 2004, where the only language we teach is Spanish! Over the years we have taught thousands of students from all over the world, all with one main interest: learning the Spanish.
In addition, I've been loving digital marketing since I graduated university in 1998, and founded my own agency just two years later. In 2010, we began to teach digital marketing training courses to a wide variety of people: business owners, journalists, entrepreneurs, and students.
In 2019, I decided to use our digital experience to bring our successful Spanish learning system completely online, and started our biggest project: ¡Hablemos Español! – Let's Speak Spanish!
How Do We Want You to Learn Spanish?
Our mission at FU International Academy was, is and will be to teach you Spanish in a way that you:
LEARN IT CORRECTLY
LEARN IT FAST
SPEAK FROM THE VERY FIRST LESSON
HAVE THE GREATEST FUN POSSIBLE WHILE LEARNING IT
We Belong to the Best Schools in Spain
Since 2000, when we first opened our academy we've been aiming to become one of the best schools of Spain.
In 2005 we became an accredited Spanish school of the Cervantes Institute in Madrid.
Since 2010 our schools is test center for the DELE, SIELE and CCSE exams.
We have one of the highest student's reviews score average on Facebook and Google my Business.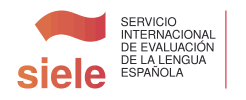 ... with the most qualified teachers ...
Most of our teachers have been working at our schools for more than 5 years. While they have been receiving 100s of hours of trainings – internally and externally – they literally gained 1000s of practice hours in teaching and examining our students.
... and our own teaching system!
24 LEVEL SYSTEM TO SPANISH Fluency®
48 LEVEL SYSTEM TO SPANISH MASTERY
Most Spanish learners lose motivation because they learn without direction and need too much time to reach the next level. Our 24 Level System to Spanish Fluency® and the 48 Level System to Spanish Mastery have clearly defined goals for each level that you can accomplish fast so you stay motivated from level to level.
In 2019 We Decided to Bring the "24 Level System to Spanish Fluency®" Online.
Carmen
Head of Online Spanish
Mari Carmen
Marketing & Sales
Check Out Our Different Offers to Learn Spanish Online!