11 Best Apps to Learn Spanish in 2022 [+INFOGRAPHICS]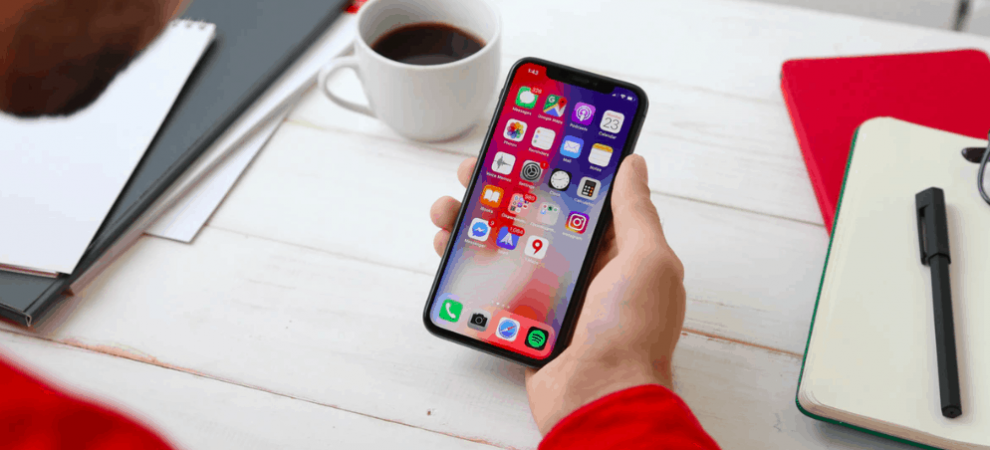 How to Find the Best Apps to Learn Spanish
Do you dream to say one day "¡Yo hablo español!" and join the 577 million people around the world that speak Spanish?
Interested in learning Spanish but don't have the time or money for a full-time course? You might want to learn Spanish on the go during a lunch break, on the bus, or before you go to bed. If that sounds like you, then learning Spanish with an app will be a great idea!
By using the best Spanish apps, you can learn the language in the most enjoyable and convenient way.
There are hundreds of Spanish learning apps available, but not every one is useful or worth your time.
Don't worry – we've done all the work for you! We've carefully researched and tested different apps to help you pick the best one based on your level and the skills you want to improve. Here are 11 great apps you can use to learn Spanish today, whether you want to improve your writing, listening, speaking, spelling, reading, grammar, or vocabulary.
Our List of the 11 Best Apps to Learn Spanish
Our team researched and analyzed in depth these Spanish learning apps. We've kept in mind the different levels of learners, and investigated tools and widgets that are helpful to support the learning process. Here's what we think about each one of them.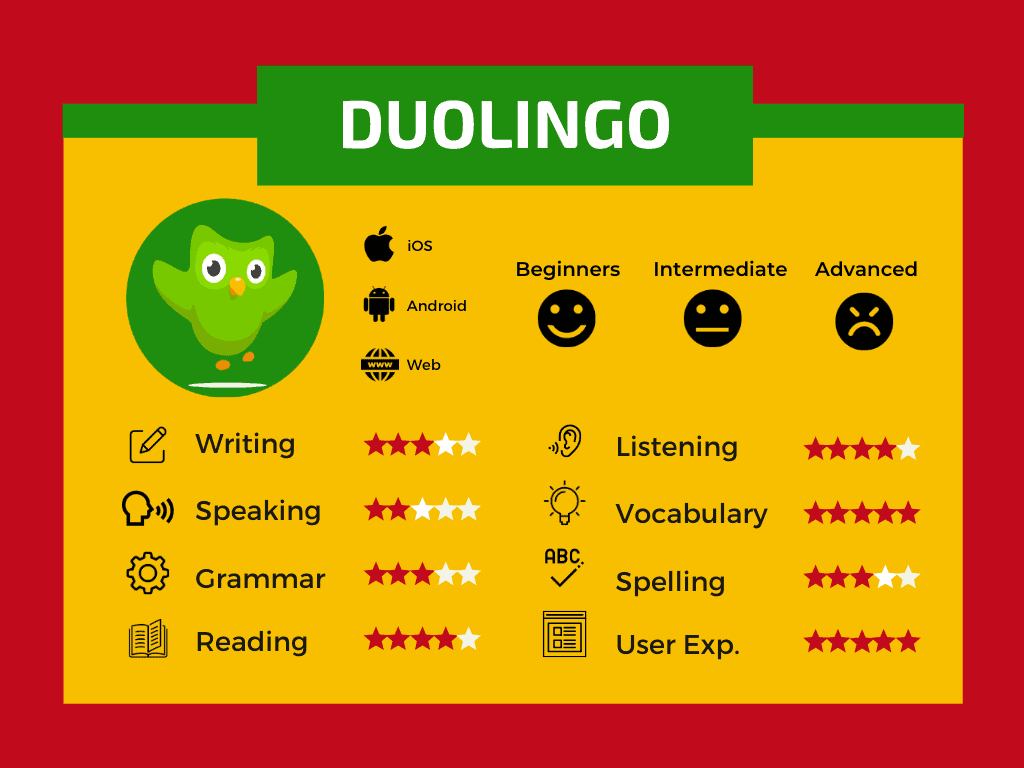 The champion of the language apps.
Launched in 2011, Duolingo now has over 500 million users worldwide (2021) and it's the most downloaded education application of all time. With their app you can learn more than 30 different languages.
Its user-friendly interface and the highly engaging system makes it a good introductory app for first-time learners. Beginners are exposed to a good amount of vocabulary regarding different topics. The wide array of levels makes it useful if you're an intermediate learner, with various exercises to help you learn the construction of correct phrases in the Spanish language.
Duolingo also has a new feature that allows you to complete short stories regarding different topics. You have to fulfill little tasks that test your comprehension of the story. This is definitely a fresh way to learn through a language app.
If you are interested in also learning Spanish through podcasts, then you should check out the 17 Best Spanish Podcasts for Spanish Learners.
Pros:
Great design, entertaining and enjoyable
Short classes: no more than 10 minutes each
Gamified learning system (skill levels, day streak, levelling up, fluency meter etc.) keeps you engaged and motivated
Bonus lessons:
– Flirting and pick up lines (yes, you read that right!)
– Idioms and proverbs
Cons:
Mostly good for beginners so not suitable for serious learners
No proper grammatical explanations (you're supposed to learn intuitively)
Not specialized in Spanish (standardized procedure for 30+ languages)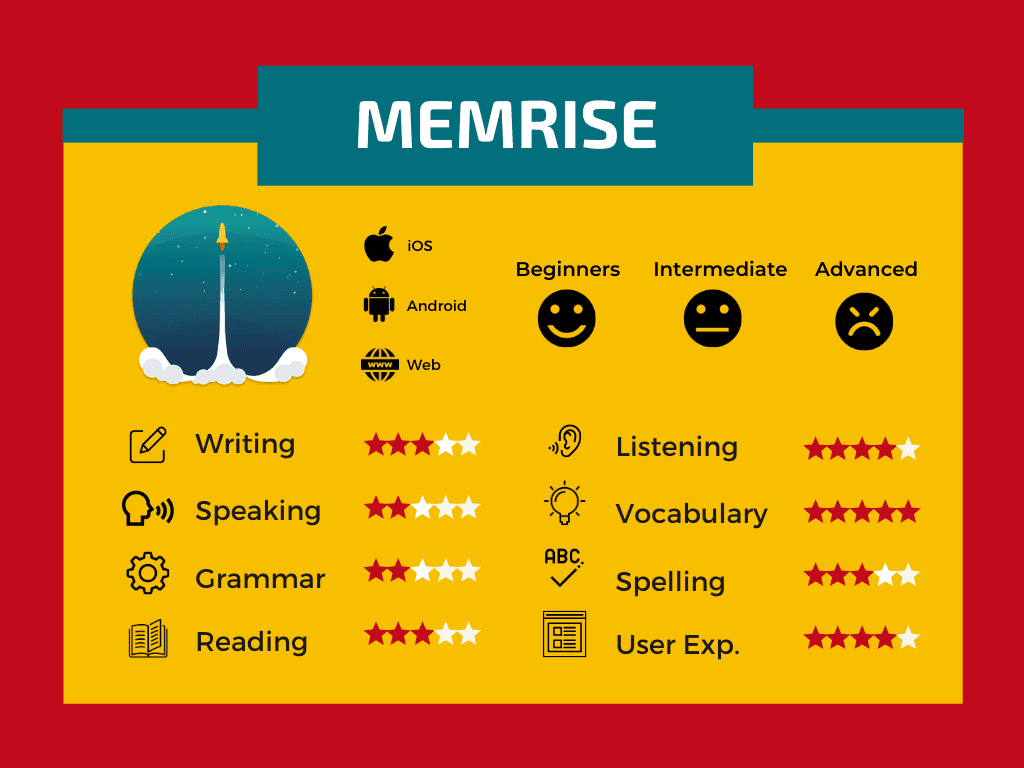 Memrise is THE language vocabulary app. Each lesson helps you learn around 15 words, and with consistency, you can build a huge vocabulary arsenal. Memrise makes learning a game in a similar way to Duolingo.
Memrise showcases words as part of complete sentences which makes it much more than a one-sided, monotone dictionary. The uniqueness of Memrise as a Spanish learning app lies in the variety of the courses, as you can also create your own course.
Clips with native speakers in different contexts and funny situations are entertaining to watch. The app also allows you to sharpen your comprehension skills and become familiar with the different types of Spanish. 
Pros:
Diversity of courses and topics
Entertaining phrases and explanations
Play and compete with friends
Great user interface
Cons:
Weak grammatical explanations
Some courses can be better quality than others
Only useful if you commit to using it every day
Not specialized in Spanis
Premium:
€ 6.99 per month
€ 50.00 per year
€ 99.99 lifetime access
Busuu is a great option between a paid and free app.
The app includes comprehensive grammatical lessons with very useful exercises that not only can help beginners to gain a solid foundation for good Spanish grammar, but also can potentially help intermediate learners to achieve the next level of Spanish proficiency.
Busuu uses a wide variety of pictures and audio files to help you expand your vocabulary. It has plenty of useful resources for text comprehension, allowing you to focus on understanding dialogues to get familiar with the language.
It also offers the opportunity to interact with other users and native speakers so you can  exchange and correct your written exercises. The language learning levels range from A1 to B2.
There is extra premium content like podcasts, but regardless of the paid features, it's a really useful app for learning Spanish. 
Pros:
Very easy to use and quite engaging
Good quality and a wide variety of topics
Possibility to talk to other learners
Possibility to contact native speakers, although just through chat
Cons:
No tutor
Need to pay for a premium to be able to continue with your progress
Premium:
€ 11.66 per month
€ 79.92 for 12 months (€ 6.66 per month)
€ 149.76 for 24 months (€ 6.24 per month)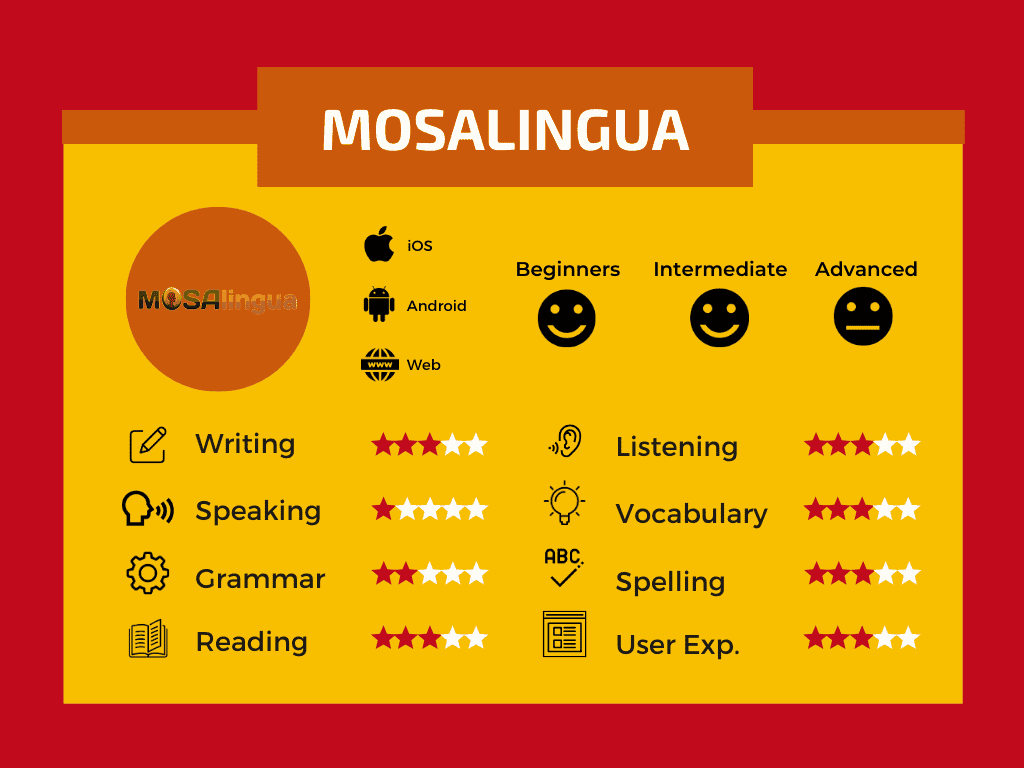 MosaLingua holds a good ranking when it comes to Spanish language apps. Most of its success, in our opinion, lies in its structure. There are loads of sub-categories, variety and levels from beginner to advanced.
Depending on your learning style, this app might be very effective for you. The feature that stands out the most with this app is its flashcard tool, the SRS – Spaced Repetition System. Sounds cosmic right?
The app has a built-in list of flashcards you can choose from that will allow you to progress and keep on track, enhancing your long term memory when it comes to useful words and phrases you want to learn. In fact, these cards contain audio recordings by native speakers, so you can't mispronounce words. Additionally, there's an option to browse and learn about Spanish grammar rules if you're looking for further clarification.
Unfortunately, the free content in this app is limited. But if MosaLingua's system is something that could be effective for you, you should consider buying the full app to unlock the other levels.
Pros:
Explore topics that you desire freely
Hands-free mode (speak only)
Flashcards are an efficient way of learning
No invasive push notifications
Cons:
Not recommended for cramming before a test or a trip abroad
Good for a bit of studying every day but there are better apps for longer periods
Very limited free content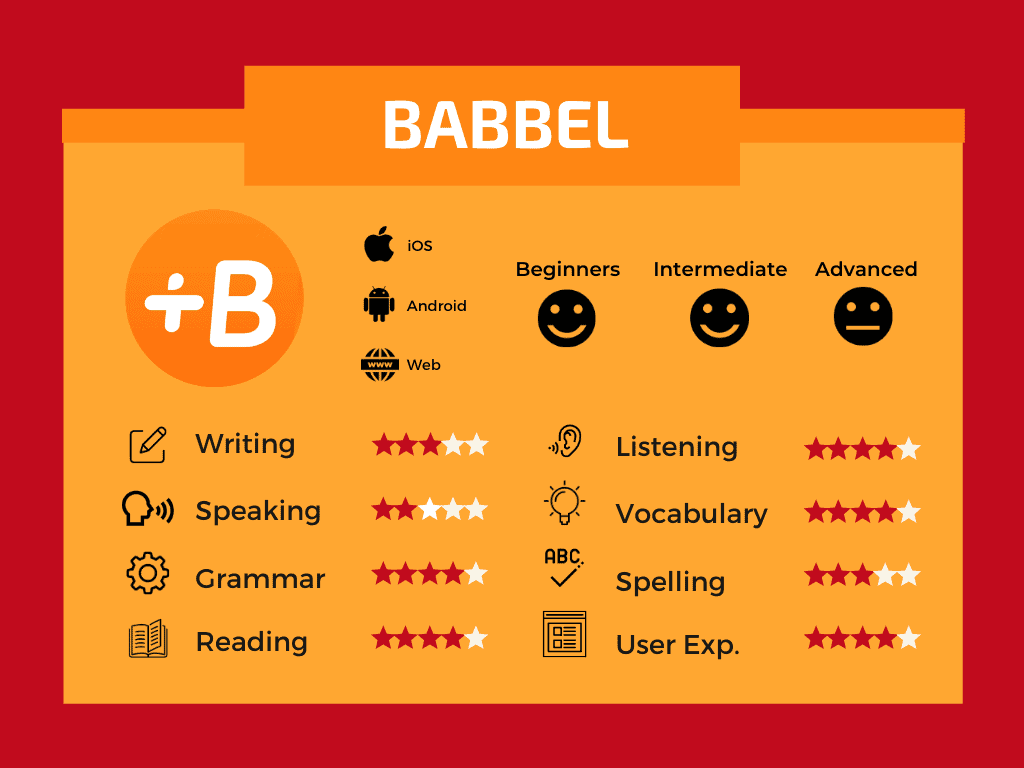 Babbel is a premium, subscription-based language learning app, offering 14 different languages from beginner to intermediate. It contains solid and structured courses that can help you with your writing, reading and listening skills in Spanish.
Just like the other apps mentioned above, this one offers plenty of exercises such as texts to read, phrases to complete and audios to listen to. They're all based on different topics and everyday scenarios. Some exercises require you to repeat out loud certain phrases, pushing you to practice your speaking skills.
Although the user interface of Babbel is not the best out there, this app allows you to freely choose different levels and topics to find the one that best suits you. It also has a good structure that explains certain concepts of Spanish grammar which sometimes an average learner might find tricky.
With its name inspired by the biblical Tower of Babel, Babbel was claimed as 'the most innovative company in education' in 2016. The company coined its own 'Babbel method' which sets them apart from other language learning apps. You can try their first lesson for free to see if this is the Spanish language app for you.
Pros:
Easy-to-understand grammar tips
Focuses on long-term retention by reintroducing words and phrases periodically
Review Manager, with review sessions
Cons:
Courses only available up to an intermediate level
Does not keep you engaged in terms of content
Lacks some fun and some exercises are a bit repetitive
€ 10.50 per month
€ 24.90 for 3 months (€ 8.30 per month)
€ 39.60 for 6 months (€ 6.60 per month)
€ 59.40 for 12 months (€ 4.95 per month)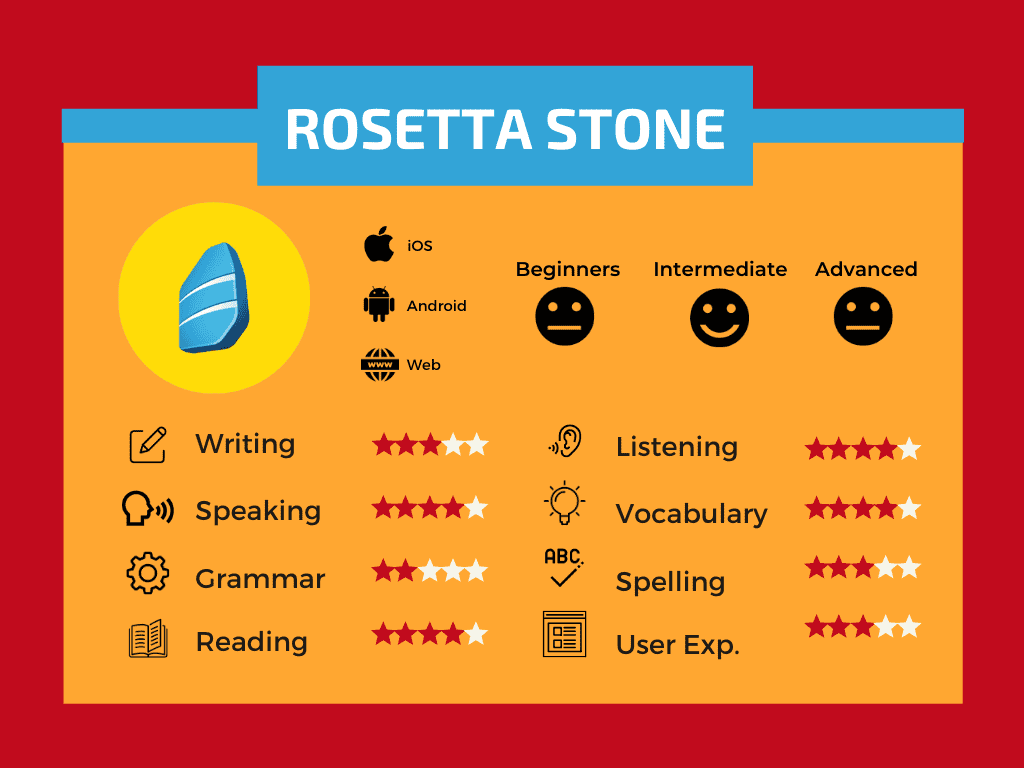 What makes Rosetta Stone stand out among the other apps is that it teaches everything in Spanish. You learn words in context – through audios and visuals that mirror everyday situations. This immersion may be exhausting, especially at the beginning, but it is the most effective way to learn a language – just like you did as a child!
You can choose whether you want to learn Spanish spoken in Spain or Latin America.
A great tool that Rosetta Stone offers is the Phrasebook. It gives you lots of common and useful sentences that will help you in your daily life. That's especially great for traveling as it is also available offline. You can even download the full lessons, so you can learn Spanish anytime and anywhere.
The speech recognition technology compares your pronunciation to that of native speakers and makes you repeat the words until you get them right. If all that isn't enough, you can also schedule lessons with a live tutor and practice your Spanish by talking to a native speaker, but this feature costs extra.
Pros:
Learning from context
Professional pronunciation feedback
Lets you download complete content to learn offline
Cons:
No translations or explicit grammar
Subscription necessary and fees are quite high
€ 35.97 for 3 months (€ 59.97 with Online Tutor)
€ 119.88 for 12 months (€ 179.88 with Online Tutor)
€ 199.00 for 24 months (€ 299.00 with Online Tutor)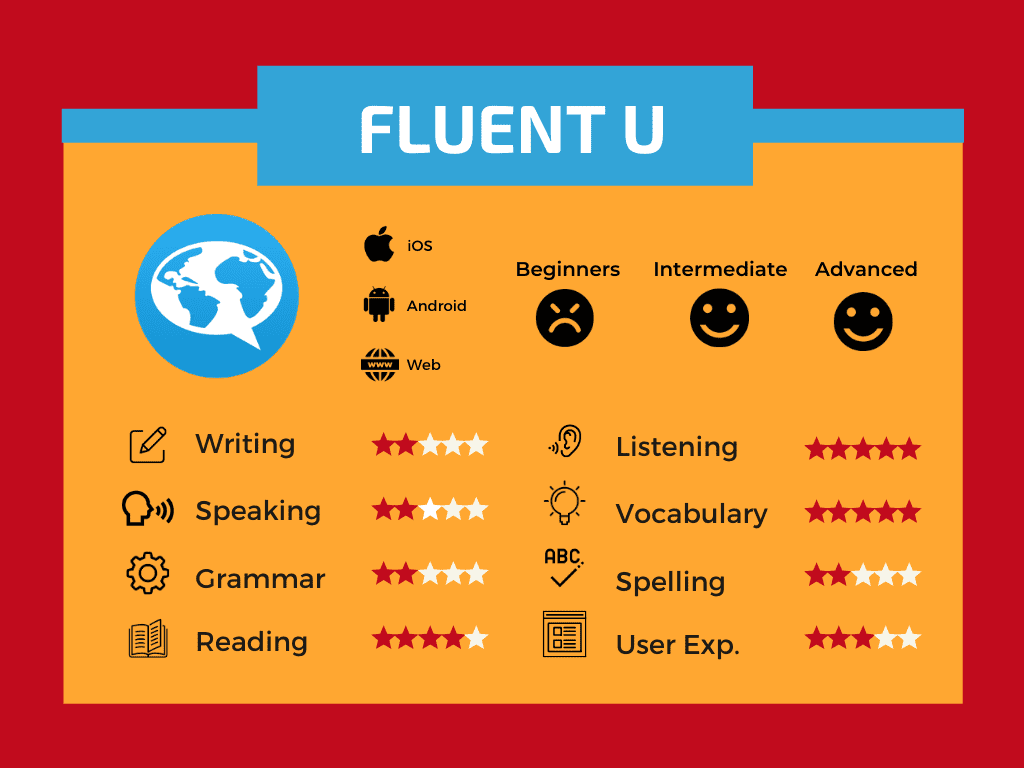 FluentU also tries to teach you Spanish the 'natural way'. The app provides real-world interactive videos like music videos, movie trailers, news and inspirational speeches. You'll learn Spanish while getting to know the Spanish culture. Watch the videos with transcripts or translations and simply click on the word or phrase you want to know the meaning of.
In order to focus on learning vocabulary, you can add words to your list, quiz yourself on the vocabulary or have a look into the bilingual dictionary where you can see how the word is used in context.
For a personalized learning experience, FluentU recommends videos based on the vocabulary you have already learned. The videos cover engaging topics like soccer, TV shows and movies. This way of learning is especially recommended for people who are audio-visual learners and want to learn more about Spanish culture.
Plus, if you purchase the FluentU app, you get access to all the other languages too! However, as you are loaded with native content only, this app is more tailored for advanced learners.
Pros:
Engaging videos that suit your taste
Good for learning vocabulary
Cons:
No grammatical explanations
No speaking or writing required
Very pricey for the amount of content
€ 29.99 per month
€ 239.99 for 12 months (€ 19.99 per month)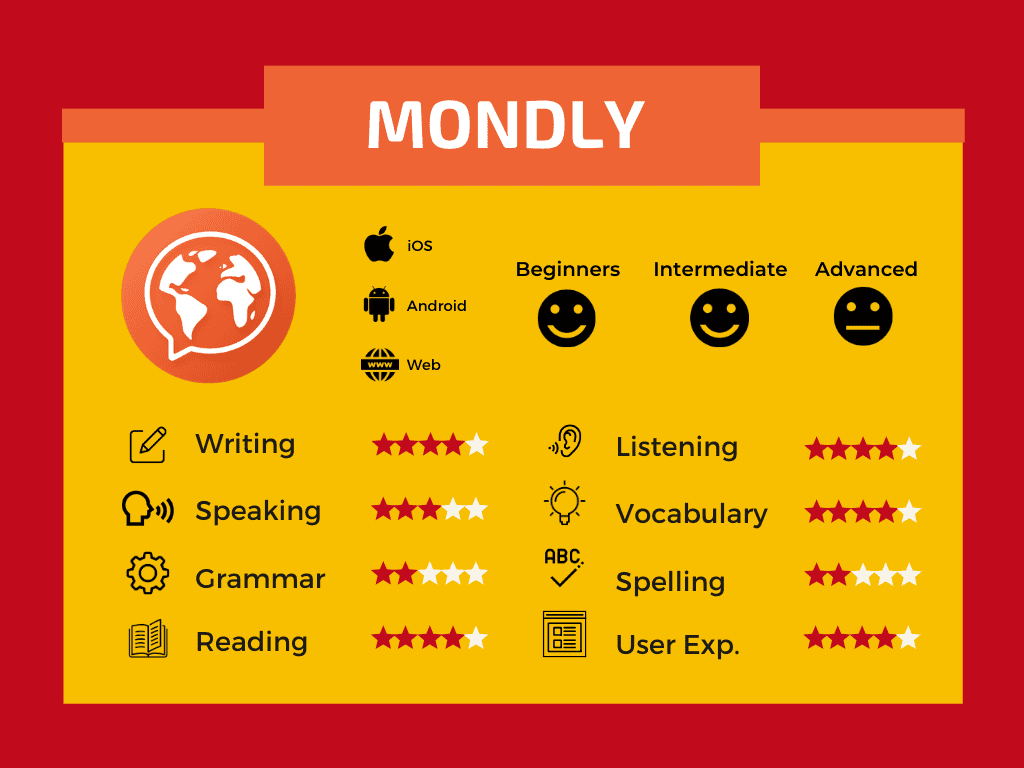 Mondly is the allrounder among Spanish learning apps. It provides exercises for reading, listening, writing and speaking, and offers tools like a dictionary and a verb conjugator. The user-friendly and professional interface makes the app stand out among similar apps.
Mondly's approach is to mix multiple learning methods. You can complete daily lessons with fun exercises, like most of the other apps offer, and practice by talking to a Chatbot. It's especially useful for beginners as there are daily lessons that teach core vocabulary, sentence building and the basics of conversational Spanish. 
But what makes Mondly really special is the Virtual Reality tool. You learn how to speak Spanish by practicing real-life situations in the comfort of your own home, which is especially great for visual learners.
Pros:
Highly innovative
Many features that keep you motivated
Cons:
No grammar explanations
Not challenging enough for advanced learners
Phrases are sometimes not perfectly correct and contradictory
Premium:
€ 9.99 per month
€ 47.99 for 12 months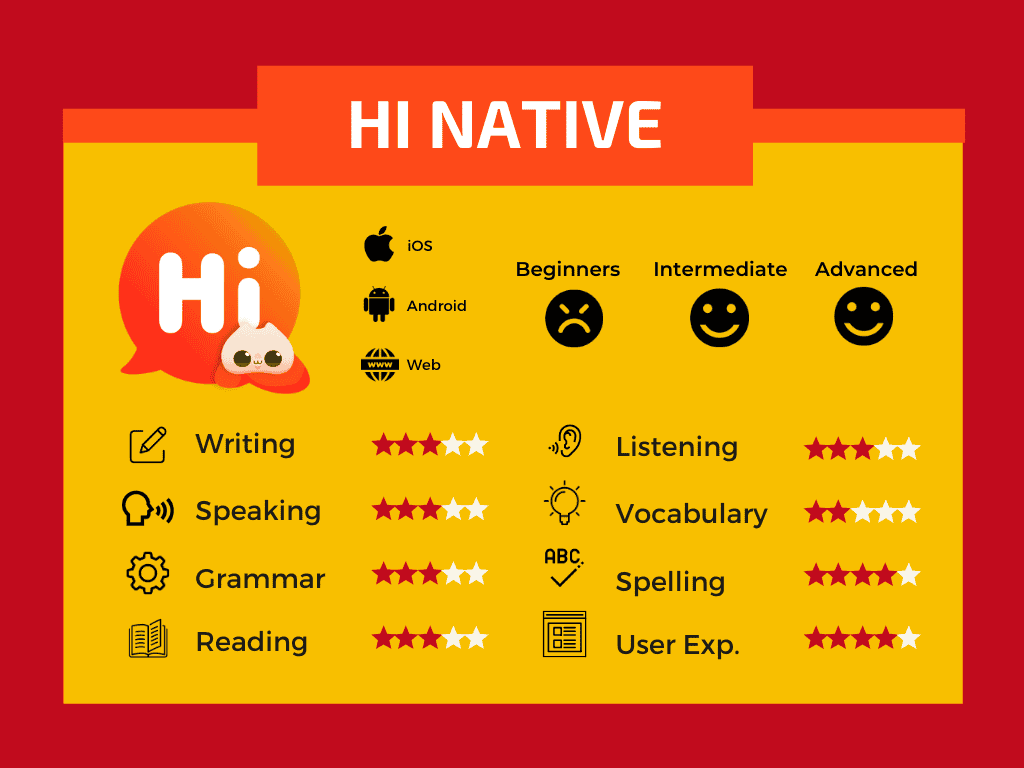 HiNative is a Question & Answer community for language learners of every language. This means you can get answers from Spanish native speakers all over the world.
It's possible to upload audios in order to have your pronunciation checked or to hear a certain region's accent. You can also upload pictures of things or signs that you want to know more about.
Don't worry,  you can ask questions even though you don't speak Spanish yet. Question templates will help you and they automatically translate your questions into the Spanish language. Or simply upload pictures.
Another great thing about this community is that you can ask for suggestions if you travel or move to a Spanish place. You receive tips from the most reliable source… locals! Whether you want to know more about Spanish customs, secret spots, the best place to eat or nightlife – you will be more than just a normal tourist.
The app is free, but you can upgrade to a premium subscription to have unlimited access to all the additional features. 
Pros:
Exchange with native speakers
Realistic information
Cons:
Not very useful for beginners as you don't learn basic grammar
Self-initiated learning – if you don't use it actively, you won't make a lot of progress
Premium:
€ 5.17 per month
€ 54.24 for 12 months (€ 4.51 per month)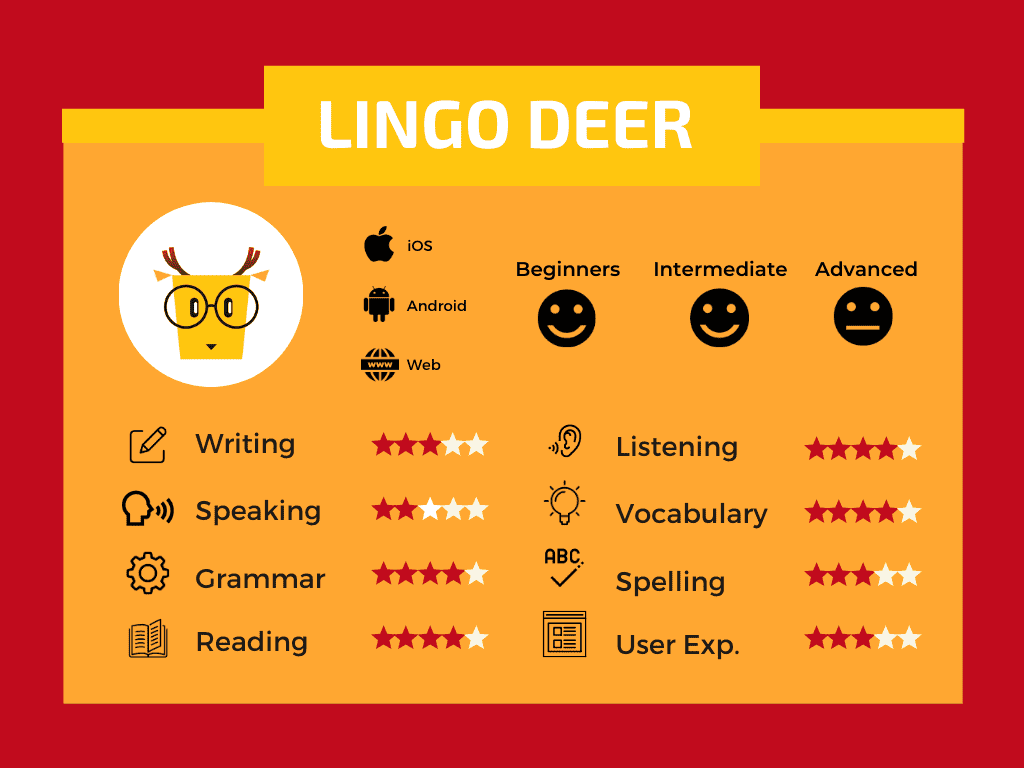 LingoDeer offers gamified Spanish lessons that are quite similar to Duolingo. Additionally, it provides very helpful grammar notes within every unit that many other Spanish learning apps don't offer.
At the very beginning, you learn the alphabet in-depth, which is great for focusing on the correct Spanish pronunciation from the very start. There are many different question types which makes learning more exciting and your skills more widespread.
Plus, there are multiple ways to review your progress. You can evaluate yourself with the help of flashcards or take a quick quiz. Also, the short stories at the end of each unit are a good way to recap what you just learned.
You can start using LingoDeer for free without even having to sign up. Of course, you will only have access to the introductory lessons. But that's a good way to find out whether the app is the right one for you before paying.
Pros:
Grammar explanations
Diverse lesson structure
Cons:
Not specialized in Spanish so content is not perfected
Lack of exercises for oral communication
Premium:
€ 11.82 per month
€ 30 for 3 months
€ 70 for 12 months
€ 109.15 for lifetime access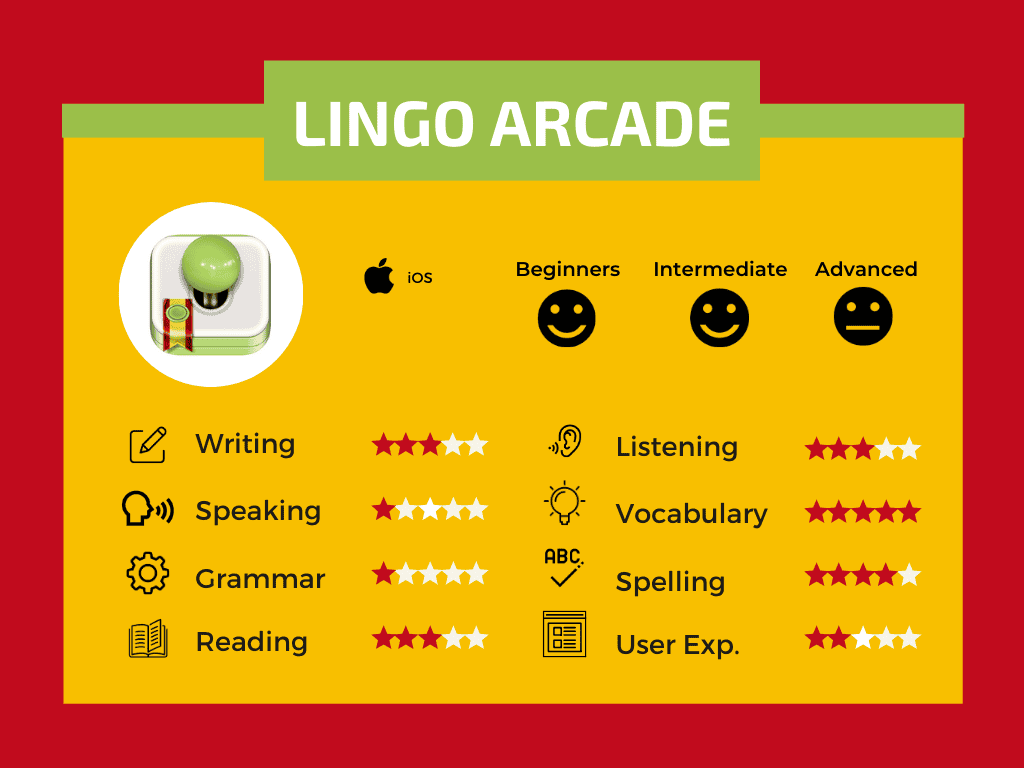 Are you interested in playing games? The app Lingo Arcade features four, fun game modes that help you to get a feeling for the Spanish language. The app includes a huge library of words and sentences that will improve your vocabulary and comprehension.
Lingo Arcade is appropriate for beginners as well as for intermediate Spanish learners. You can simply choose the level that's right for you. 
It's also a great way to introduce children to learn Spanish as it's very easy to use. In addition, Lingo Arcade is based on the approach that the most effective way to learn a language is the way kids learn languages – intuitively and without translations. The games make you learn and memorize new information by creating mental pictures.
With Lingo Arcade, you can play whenever and wherever you want. Learning Spanish will feel just like a game! You can start Lingo Arcade and test the first two levels for free. If you enjoy learning Spanish by playing games, you should check out the 7 Best Free Spanish Learning Games!
Pros:
Easy and fun
Good to learn vocabulary
Cons:
Might get a bit boring as it's very repetitive
No explanations
Layout quite outdated
€ 0.90 to unlock all 150 levels
As you can see, so many apps can build up your basics in the Spanish language. You can expand your vocabulary, improve your reading and writing skills, and gain more familiarity with the language, all of which support your learning process.
But if you feel like the approach these Spanish learning apps use is not in-depth enough or lacks structure and grammatical explanations, then you should think about switching to Spanish online courses.
Want to learn more?
We have picked the Best Online Spanish Courses available so you don't get lost in research.
As you have probably realized by now, most of these Spanish learning apps, as well as online Spanish courses, lack a very important component when it comes to learning a language.
Practicing by speaking is single-handedly the fastest and most effective way to ACTUALLY learn Spanish.
In fact, according to an article by Forbes, one of Duolingo's executives has been studying Spanish for 6 months with the company app. He has been asked "¿Hablas español?", only to answer with a confused, "Could you repeat that?"
Are you ready to take your learning more seriously? Do you want to SPEAK SPANISH like a pro when you're in that job interview, or traveling around different countries?
If you want to fill this gap and are motivated enough to take your Spanish to the next level, consider taking online classes in Spanish with native teachers.
The classes with Let's Speak Spanish use top-notch teaching materials built on the best virtual software to give you the classroom experience from your own home. All our lessons are communicative and interactive, so you will not get bored while learning Spanish!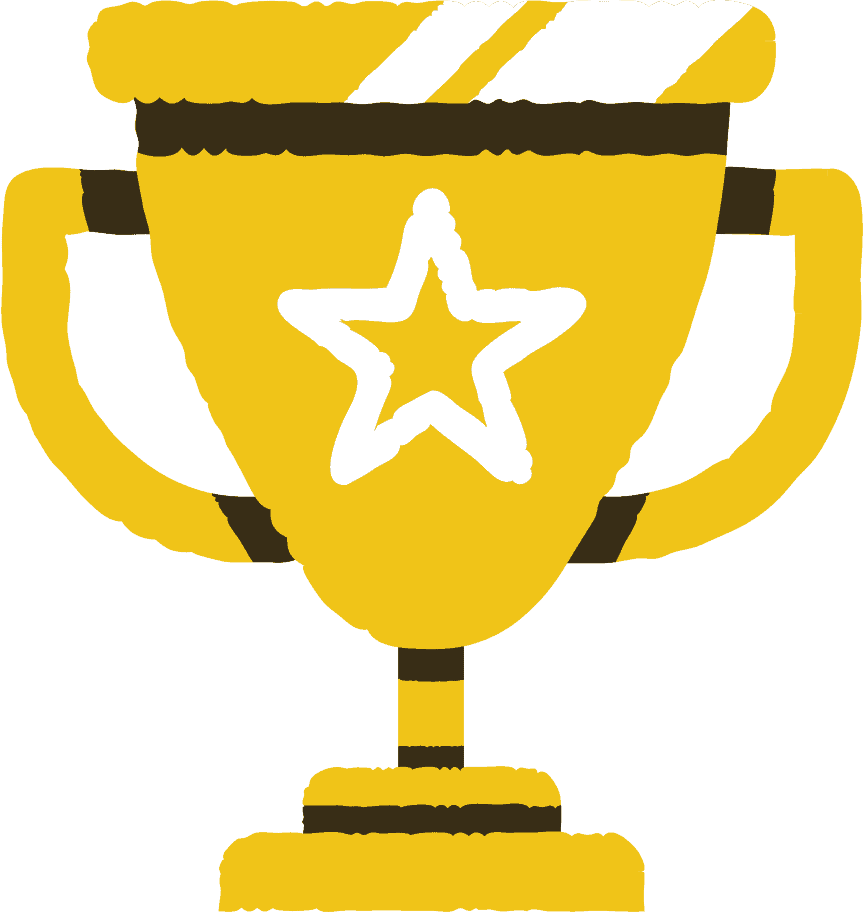 ​​Would you like to take your Spanish to the next level?
Whether you're a complete beginner or you're an advanced student, with us you'll reach the next level of Spanish quickly and easily. With 24 Levels to Spanish fluency, the next level is always close by, so you will never lose motivation.
You can choose between:
In both cases, you'll learn Spanish using our successful 24 Level System to Spanish Fluency® and our unique Spanish teaching methods.