House Vocabulary in Spanish - Living and Dining Room
¡Hola, amigos! Today, we'll be exploring Living and Dining Room vocabulary in Spanish. Firstly, it's important to know this vocabulary when talking about the house and decorating it. However, the bigger importance is because Spanish people really enjoy being in the living room. Almost every house has a living room or is combined with a dining room.
Having lived in Spain for a few years, I learned that a typical lunch will often move to the living room's sofas and coffee tables. The famous "entremesa" (the time after the food when people are simply talking) is important and can last for a really long time! So, it's crucial to know how to speak about typical furniture and decorations in the living room in Spanish. You may not know how you'll use it yet, but trust me, it's handy.
The last phrase I heard was, "Cariño, prepara la mesa del centro, pon cubiertos para el postre y café. No te olvides de poner el mantel para no manchar la mesa." So, hopefully, by the end of this post, you'll be able to understand this phrase! Let's begin!
Watch this vocabulary video of the living and dining room in Spanish:
The Living Room in Spanish
| Spanish | English |
| --- | --- |
| el salón / la sala de estar | |
| | |
| | |
| | |
| | |
| | |
| | |
| | |
| | |
The Dining Room in Spanish
Specific Verbs for Dining and Living Room In Spanish
There are some specific verbs that we use in the context of dining room and living room. Here is a list of Spanish verbs that we use to talk about our actions or activities in the dining and living room in Spanish.
To locate objects, things or rooms, in Spanish we use the verb ESTAR with the prepositional phrases:
Watch the pictures with the position of the cat and listen to the Spanish pronunciation of the prepositional phrases:
Verbs Estar, Tener and Poner
Irregular verbs in the present tense that we use to locate objects; describe them and talk about quantities: Estar, Tener, Poner.
El reloj está a la derecha del libro. – The clock is to the right of the book.
Los cubiertos están encima de la mesa. – The cutlery is on the table.
No estamos en el salón, estamos en el dormitorio. – We are not in the living room, we are in the bedroom.
Tenemos una casa grande con jardín. – We have a big house with a garden. 
Mi vecino tiene una cocina muy moderna. – My neighbor has a very modern kitchen. 
La tía de María no tiene una televisión en el salón. – Maria's aunt doesn't have a TV in the living room.
¿Pones la mesa todos los días? – Do you set the table everyday? 
Cuando vuelvo a casa pongo las llaves sobre la mesita de la entrada. – When I come home I put the keys on the coffee table.
Ella no pone una lámpara en la cocina. – She doesn't put a lamp in the kitchen.
Masculine and Feminine Nouns
Remember!
There are male and female household objects that can have plural and singular forms. Check the tables below:
Check out our blogpost about Masculine and Femenine in Spanish, which was prepared for you by our Spanish teachers.
How to Ask about Quantity in Spanish:​
To ask about quantity, in Spanish we use ¿Cuánto(s)/cuánta(s)?
The most frequent answer is a number or a word that expresses quantity (mucho(s), mucha(s), bastante(s)…)

This interrogative has masculine and feminine, plural and singular. 
We use ¿Cuántos? ¿Cuántas? only in the plural with countable nouns:
¿Cuántos nietos tiene? – How many grandchildren do you have?
We use ¿Cuánto? ¿Cuánta? with uncountable nouns:
¿Cuánto arroz necesitas? – How much rice do you need? 
We use ¿Cuánto? – (only in this form) with verbs:
¿Cuánto podéis comer? – How much can you eat?
Check out our detailed blog post about Spanish Question Words in order to learn how to form questions and the variety of the question words.
​​Would you like to take your Spanish to the next level?
Whether you're a complete beginner or you're an advanced student, with us you'll reach the next level of Spanish quickly and easily. With 24 Levels to Spanish fluency, the next level is always close by, so you will never lose motivation.
You can choose between:
In both cases, you'll learn Spanish using our successful 24 Level System to Spanish Fluency® and our unique Spanish teaching methods.
Want To Learn Spanish The Fastest Way Possible?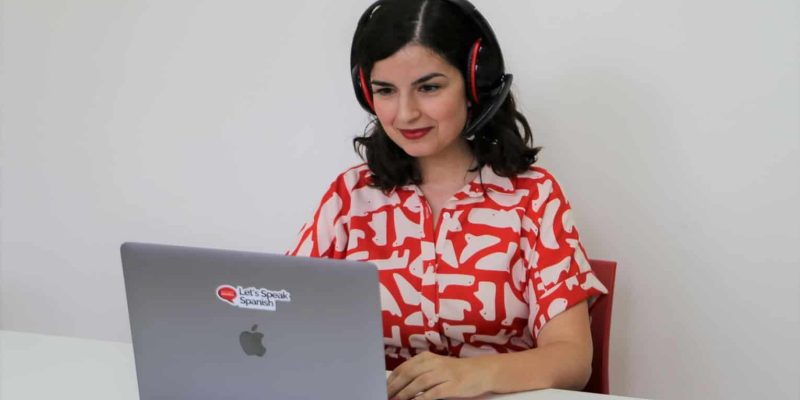 With a flexible class schedule, you decide when's the best time to take private Spanish lessons!
We teach you according to our 24 Level System to Spanish Fluency®, where we clearly define your next goals to be accomplished fast so you stay motivated all the way to Spanish fluency.