The Curious Case of Duolingo: Can You Really Learn a Language With Just an App?
In this post, you will find:
If you're a person who loves to travel, work abroad, or communicate with people from different cultures and backgrounds, without feeling lost in translation, the process of learning a new language can be incredibly beneficial. It's not easy to perfect the art of reachingmore  fluency in a dialect unless you constantly practice it. This is where language-learning apps come into play. One such app that has taken the market by storm is Duolingo.
About Duolingo in General
Duolingo was first developed in 2011 by Luis von Ahn and Severin Hacker as a free language education platform that includes the website plus Android (Jelly Bean) and iOS apps for learners.
Their mission is simple: make education more fun and achievable by removing barriers like time restrictions or cost concerns that prevent learners from investing their best efforts when gaining new knowledge.
Given how much hype this app has been getting recently, it's only natural for one to question whether Duolingo really lives up to its popularity? Can we indeed learn any foreign language using just an application? 
Let's explore these questions further!🤓
The obvious Pro of using Duolingo is how affordable it is – which always wins most users. You don't have to spend huge chunks of money on course material or attending traditional classes with set schedules; all you need to do is download the app on your phone or tablet and voilà! You've got everything accessible at your fingertips entirely free-of-charge!
Education doesn't necessarily have to be dull – Duolingo keeps things interesting while teaching languages through gamification. This allows users to progress through engaging lessons, paired with colorful graphics, designed according to the abilities of the users: from Beginner-Level Learners, building their basic skills, to Advanced Learners, perfecting their existing ones along different checkpoints for each skill they acquire.
3. Portable Language Learning
As long as personal devices are allowed anywhere in the world, travelers could easily continue growing their vocabulary during their commute using Duolingo, which has over 40 languages!
One annoyance many have encountered while trying to use the app for language learning purposes has been some odd and downright strange phrases that are not really useful in everyday conversations like, "The squirrel drinks milk," or "I am a giraffe".
Instead, what most users desire is practical terminology that they could use in real-life scenarios traveling abroad, something you're more likely to get by reading blogs or watching videos on the Internet rather than sticking solely with Duolingo's pre-defined course curriculum.
Check out our blogpost Traveling in Spanish with all the necessary vocab!
2. Noncomprehensive Grammar Explanation
While some expressions are covered throughout the various lesson modules, grammatical explanations tend to be mentioned very briefly. Sometimes they are combined with repetitive vocabulary, with non-comprehensive explanations behind the rules of the use of each phrase.
This means that there is no adequate attention paid to Academic Level Learners who are interested in the more complex language rules. The app tends towards vocabulary or speaking practice, which once again confirms Duolingo's place as an extracurricular tool, rather than primary educational tool.
3. Lack of Practice with Native Speakers
Even though Duolingo has an extensive number of practice sessions involving recordings by native speakers to help improve your accents, practicing communication with fluent (or native) speakers still falls short. Typically these so-called 'conversations' feel superficially automated which fails the inherent connection aspect one needs when attempting genuine interpersonal interaction.
A crucial point that Duolingo struggles with is translation inaccuracies. This could contribute to incorrect vocabulary retention among learners. Normally, when such minor differences occur some will find themselves running into communication trouble since not everyone has revision opportunities with every sentence before stepping out in real-life translation.
Duolingo for Advanced Learners 🧷
There's no denying that Duolingo is an excellent tool for beginners or anyone interested in learning languages casually, but what about its usage for Advanced Learners?
In general, more experienced language learners tend to skip Duolingo, as they progress beyond the concepts covered in the app. For example, I'm learning Spanish at the A2 level, but to get to that vocabulary I need to complete lots of easy and boring content. 
The casual nature might bring advantages mostly after reaching certain levels of designated sections, catering to more complex linguistic skills. These are not offered until users meet certain prerequisites along their journey, such as: earning enough coins required for special achievements that prove they have completed basic-level courses with satisfactory results.
We see clearly that Duolingo acts best in strengthening existing knowledge, helping refine pronunciation, and paving the way for mastering everyday vocabulary. However many essential elements stand missing. Limiting it strictly as a supplementary educational tool than a primary source of fundamental grammatical explanations and advanced language elements necessary to achieve the deeper fluency.
In conclusion, while Duolingo is still a leader within its niche as the extracurricular reinforcement tool across many languages with fun engaging lessons, and mobile-friendly design, it falls short compared to traditional courses taught in schools thus considering it unsuitable for Advanced Learners attempting to master specific academic or cultural requirements.
So as long as users keep an open mind towards any gaps found and combine learning with other methods mentioned earlier—there's no reason why one shouldn't take advantage of all that Duolingo offers on this journey toward pursuing linguistic diversity!📝
Check our blogpost about the 11 Best Learning Apps for Spanish to expand your possibility in the world of mobile app learning. Maybe you'll be a better fit for you!
Let's Speak Spanish vs. Duolingo
We've been teaching Spanish offline and online for more than 20 years now. With years of experience, we saw that teaching needs a clear system (more about that later). Both in the private tutor lessons and in our self-study materials. 
Moreover, we always focus on modern, refreshing, and consistent design so that your process of learning Spanish becomes a visual experience.
In order to lighten some of the most important aspects of the process of learning a new language we want to present you some of the most important aspects of our COMBI Self-Study Courses, that will help you discover on your own the differences between Duolingo and our Let's Speak Spanish features.💡
Self-Study Courses combined with Tutoring & Social Learning
One of the main differences is that our Self-Paced Online Course COMBI is combined with Tutoring and Social Learning. It teaches real-world, everyday Spanish in an innovative and fun way. More than that, it starts at the total beginner level and progresses smoothly to make the learning process totally efficient.
The lessons will never be boring. They contain audio and video elements, articles and infographics, podcasts, webinars, and interactive exercises that reinforce the language skills taught throughout the course. Also, whenever you feel you need guidance or help, we offer community support and private tutor lessons.
24 Level System to Spanish Fluency® - Our Own Teaching System
Most people who learn a new language lose motivation because they learn without a clear direction and it takes too long to get to the next level. With this in mind, we have created our own Teaching Method, 24 Level System to Spanish Fluency®, which clearly defines objectives for each level. There, we divided the European Framework of Reference for Foreign Languages (CEFR) and the American Company for the Teaching of Languages (ACTFL) into 24 levels (from beginner to fluency).
In this way, you can quickly reach the next level, so that you stay motivated from one level to the next. 😃
Since 2010, we have been teaching Spanish online and have developed and adapted our system and methodology specifically for Online Lessons.
Let's Speak Spanish - Communication is the Priority 👩‍💻
Who said you can't communicate in Self-Study Online Learning? 😇
Over years and teaching experience, both face-to-face and online, we have found that one of the most common problems for learners is Communication. Our main teaching objective is to enable students to communicate effectively at any level. The materials, teaching aids, and methods are all geared toward helping students learn to communicate as effectively as possible. So, communication is the key! 😉
Own Teaching Materials & COMBI Course 📖💻
Because we want the Online Spanish Learning Process to be as beneficial as possible, we are confident that our COMBI Spanish course – with its 72 webinars, 48 podcast episodes (and counting), over 1,500 interactive exercises and countless videos, audio files, articles and infographics – contains the best Spanish learning material on the Internet.
Also, out of a desire to keep improving and evolving, our team of Spanish teachers, graphic designers, and programmers continue to work together in sync to provide didactically excellent, highly motivating, and beautifully designed learning elements. ⚙️🔧
If you want to find out more about our Self-Study Courses, COMBI Courses – Let's Speak Spanish, you can access more info below:
Why Do We Make Desktop Courses?💻
Another difference refers to the fact that, in contrast to Duolingo, which is designed for smartphones, we have chosen to adapt our courses to desktops. It makes the learning more efficient and beneficial.
Why did we choose this? Our idea is that through the Desktop you can have a much broader overview of all learning materials. Whether you're watching a video, listening to a podcast, or solving exercises, the Desktop Version helps you to keep your attention throughout your learning process and stay engaged.
And, let's be honest, we are all aware that most of the time notifications from our Smart-Phones distract us from any kind of learning …😜 
So, we want you to REALLY learn Spanish! 😃
Other Aspects of Duolingo That Can Be Improved ⚙️
Certainly, Duolingo can be helpful in some cases, but for its functionality to really bear fruit, the following aspects should can be improved.
1. More Opportunities for Speaking Practice
While Duolingo provides a foundation for vocabulary and a brief grammatical explanation, it doesn't provide speaking opportunities. It's mostly geared towards replicating phrases and sentences, which is beneficial but doesn't offer enough real-world practice to become fluent in the language.
2. Lack of Cultural Immersion
Language is not only about grammar and vocabulary; it also entails immersing oneself in that country's or culture's lifestyle. Duolingo doesn't adequately focus on functional aspects like idioms or everyday conversation nuances, making it challenging to acquire proficiency as quickly as you would desire.
3. Inadequate Feedback Mechanisms
While the app checks your pronunciation, there is no feedback on delivery, tone, or inflection which limits speaking skills improvement over time leading to one becoming stagnant when conversing with people while they are still learning.
4. Duolingo & Individual Differences of Learning Process ❎
Some learners need more visual aids or audio materials to master new concepts and hence may require supplementary materials rather than relying solely on Duolingo's mode of teaching. In this sense, Duolingo does not take Individual Learning Differences into consideration.
Therefore, Duolingo should be combined with other tools such as active engagement with native speakers or watching YouTube videos when possible. This will help bring context around the target language, as well as supplement its limitations lacking immersion or interactivity, as otherwise, any approach that relies entirely on memorizing word lists would eventually hit a roadblock long before it leads to language mastery.
Read our posts in the category of Spanish Learning Ideas and Resources that you can use in the learning journey! 
Want To Learn Spanish The Fastest Way Possible?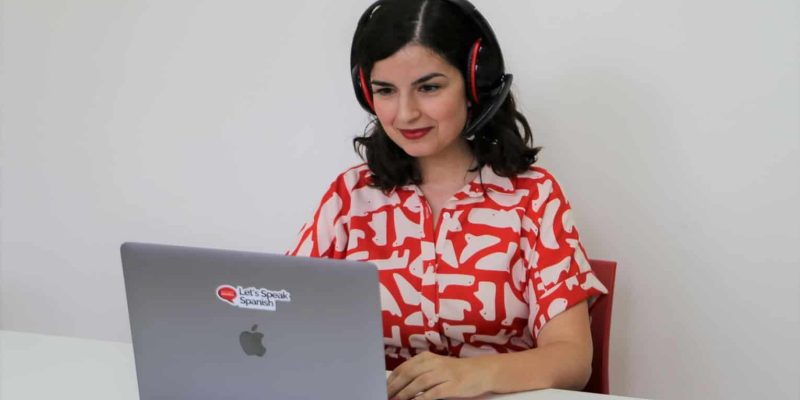 With a flexible class schedule, you decide when's the best time to take private Spanish lessons!
We teach you according to our 24 Level System to Spanish Fluency®, where we clearly define your next goals to be accomplished fast so you stay motivated all the way to Spanish fluency.