CEFR & ACTFL Language Levels – A Quick Overview [+ INFOGRAPHIC]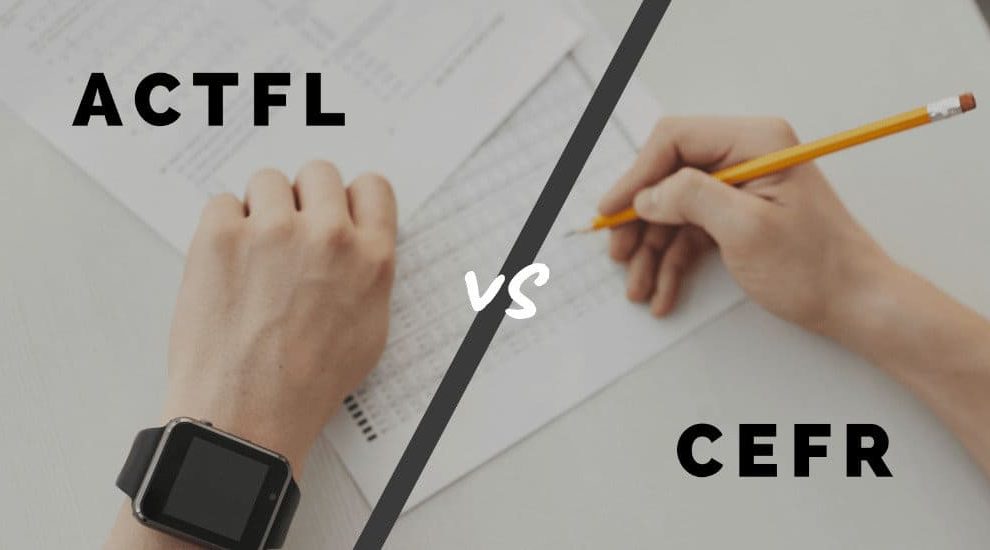 Speaking several languages is very important nowadays and we usually start studying a second language in school, since we are children… but knowing three is much better than just two. 
For that reason we are going to use The American Council on the Teaching of Foreign Languages Guidelines (ACTFL, 2012) from the American Council on the Teaching of Foreign Languages and the Common European Framework of Reference for Languages: Learning, Teaching, Assessment (CEFR, 2001) from the Council of Europe.
How Can You Prove Your Language Skill Level?
Our comparison between the CEFR and the ACTFL proficiency guidelines explains all the important things you need to know
So you want to determine your Spanish language level? Or have you already reached a certain level and need to know where your level fits in with other standards? Here comes the inevitable question: how do you determine your Spanish (or any other language) level? Our post will answer all your questions.
There are two major frameworks for learning, teaching, and assessing foreign language skills and their different levels:
the U.S. defined the ACTFL Proficiency Guidelines
and in Europe, there is the Common European Framework of Reference for Language (CEFR)
We should start by saying that both systems are different, although the starting point is the same: to implement the same standards in the assessment of different foreign language skills in schools and universities, but also in governments. 
Both language standards provide the basis for accredited testing and certification systems in their region. Yet, if you want to prove your language level, it can be difficult to determine which of these two frameworks is better for your language proficiency.
In this article, we will explain what the standards are and how you can compare them to know your exact language level. Afterward, you will be able to choose the most suitable Spanish course or level for you.
We could spend a long time explaining all the tidbits of the scale to you, but to be honest, you don't need to know every single detail. So instead we've prepared the most important and relevant information for you.
The ACTFL focuses mainly on the assessment of oral skills and the CEFR is more a document that invites reflection on objectives and methodology in language teaching/learning, as well as presenting a common basis for the development of programs, tests, assessment criteria and teaching materials, always with the aim of facilitating the mobility of people in the educational and professional spheres.
An important part of being able to use a second language, in addition to the learning process, is the evaluation. Official exams and certificates are based on tests that evaluate the knowledge we have of a language. To achieve this we must keep in mind that oral tests use different scales (grammatical, communicative, lexical and/or fluency) to determine the results.
The assessment used in the ACTFL OPI (Oral Proficiency Interview) has a single scale with binary questions (yes or no) that the evaluator uses to determine if the candidate meets the objectives of the level. This system measures proficiency without taking into account the learning processes according to the elements to be met at each level.
The ACTFL language levels identify five major levels of proficiency: Distinguished, Superior, Advanced, Intermediate, and Novice.
The system divides Advanced, Intermediate, and Novice into three sublevels each (High, Mid, and Low). The language levels are a scale from a native speaking language user ("Distinguished") to an absolute Beginner ("Novice"). The graphic below states the different levels as a funnel.
If you are really interested, you can read more about the scale, its history and development on the official ACTFL website. But for students in Europe, these levels can be quite confusing, so keep reading if you want to know how you can convert them to your usual standards.
Like the ACTFL system, we don't want to bother you with irrelevant details but give you a short overview.
The CEFR language levels were designed by the Council of Europe. The abbreviation "CEFR" stands for "Common European Framework of Reference" and is the most widely accepted European standard for measuring language proficiency. Therefore, if you are coming from the U.S. this is probably new for you. But don't worry, we've created a graphic in the next chapter to compare your ACTFL level with the CEFR scale.
The CEFR is distributed into three competencies (comprehension, expression and interaction) and five criteria (scope, correctness, fluency, interaction and coherence), which means that the language ability is measured in terms of objectives and content that the candidate must achieve.
Its language proficiency is divided into six levels, which range from A1 to C2, where A1 would be a total beginner and C2 describes a mastery level.
These six divisions can be regrouped into three broader levels: Basic User (A1 & A2), Independent User (B1 & B2) and Proficient User (C1 & C2). The different levels all have fully elaborated descriptions and are defined through 'can-do' factors. The graphic below states the different CEFR levels.
3. How Can You Compare Them?
[Graphic Included]
Now to the most important part of our post. How can you transfer your language level to one of the other scales? And what should you keep in mind?
First of all, language proficiency is not a strict principle which holds for every language and every individual. It is rather a continuum, and as such there will be no perfect division of levels.
To summarize: the ACTFL assesses oral ability in its functional and performance dimension according to the effective and appropriate use of the language, while the CEFR assesses the degree of learning in relation to the curricular content or syllabus of the level.
But what are the levels of each system? And what are the scales of each level?
Well, let's take a look!
We design our Spanish classes according to CEFR language levels. However, we also developed a more detailed unique teaching method, where we took the European framework and divided it into 48 language sub-levels. Each sub-level has its own content, learning objectives and an exam at the end. The first 24 levels lead you to Spanish fluency.
Keep on reading to learn more about how our online classes work! 😉
4. Try Our Online Spanish Classes
Let's show you what makes "¡Hablemos Español! – Let's Speak Spanish!" a fantastic way to learn Spanish.
First of all, our offers are based on the 24 Level System to Spanish Fluency®. 
Before taking any classes or courses with us we need to know your exact level of Spanish. So, we created a free placement test.
Our unique level system allows you to really get in depth when learning Spanish, rather than a standard three level system. After taking the test you can choose from a variety of ways to learn online, such as Private Spanish Tutor Lessons, Conversation Lessons, our COMBI Spanish Course Online or Resource Sheets that help you learn at your own pace. 
Besides the Conversation Lessons, we use for all the other Tutor Lessons Online, the latest technology; a virtual classroom with whiteboard and co-browsing technology.
Our COMBI Spanish Course Online consist of a unique combination of self-learning, webinars, teacher and community support. Thanks to our clearly defined 24 levels, it's a lot easier to 'level up'. Follow the course through and in no time you can reach the next level! Having the next goal always in sight keeps you motivated through the whole journey to Spanish fluency.
Sounds interesting? Check out the different options by clicking on the links above and leave us a comment below if you have questions!
Want To Learn Spanish The Fastest Way Possible?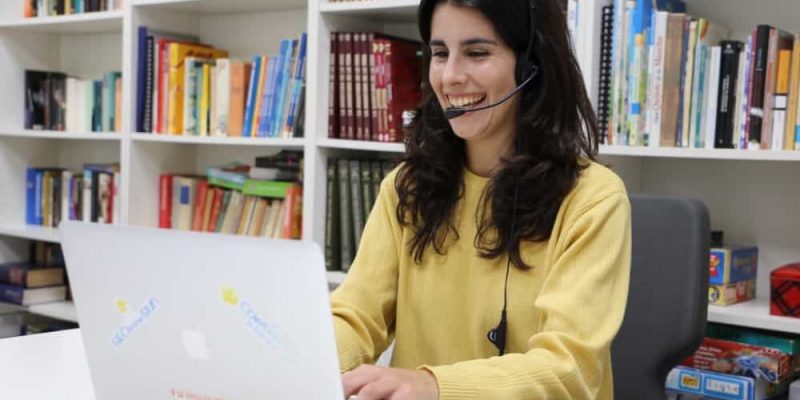 With a flexible class schedule, you decide when's the best time to take private Spanish lessons!
We teach you according to our 24 Level System to Spanish Fluency®, where we clearly define your next goals to be accomplished fast so you stay motivated all the way to Spanish fluency.