The 15 Best Spanish Language Schools in Spain
[Based on Reviews and Features]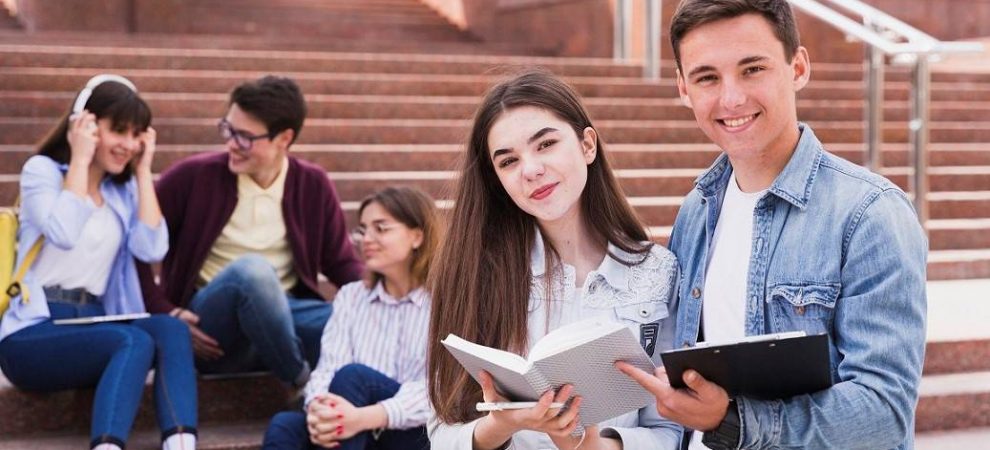 Picking the Right Spanish School Is an Important and Hard Decision
We all know the best way to learn Spanish (and learn Spanish fast) is to study Spanish in Spain. You just can't beat Spanish immersion courses in Spain for improving your skills.
If you have already decided to study Spanish in Spain (which we think is a very good decision), then picking the right Spanish school is a very important and hard task. The options of Spanish courses in Spain for adults seem endless.
Being a Spanish language school ourselves we had the urge to know: which is the best Spanish school in Spain? And – of course – where would we rank on the list?
To be fair, we were a little nervous about the results as well. But since we are confident about our service and the quality of our school we decided to go for it. (We are aware of the fact that not all the schools out there will love this post. Obviously, there are many great schools, which did not make it to this list.)
We put a lot of effort into creating this post.
First, we had endless team meetings where we were discussing the ranking criteria. At the end we were able to break down the Spanish language schools offers to measurable benchmarks and developed a reliable and – hopefully – fair ranking system based on numbers. Then we needed weeks and weeks of research, writing, tweaking, more meetings, etc. before we finally finished the post.
Now we are able to present you: The Best Language Schools to Study Spanish in Spain [Based on Numbers]. Spoiler alert: We did make it on the list 😉
Instituto Cervantes and FEDELE – the Guards of High Quality Teaching of Spanish in Spain
There are easily more than 1.000 Spanish schools in Spain. We knew from the beginning that we would not be able to research and evaluate them all. So, we decided to only take Spanish schools into consideration which are
accredited by the Instituto Cervantes and
members of FEDELE, the Federation of Spanish schools in Spain
Why did we do that?
Because both institutions gave us a perfect selection of high-quality Spanish language schools in Spain.
Being an accredited school of Instituto Cervantes assures the student high quality in all areas of a Spanish school: teaching, course variety, accommodation, leisure and culture activities and general customer service.
To ensure a stable level of quality and constant improvements, the schools go through evaluations, which take place every two to three years.
Becoming a member of FEDELE only is possible when the school fulfills quality requirements to reach business excellence. The federation set up certain demands in the fields of legal standards, service, and organization. They can be reviewed in the quality charter for the sector.
The Instituto Cervantes is a public institution created by Spain in 1991 to universally promote the teaching, study and use of Spanish and contribute to the dissemination of Hispanic cultures abroad. In its activities, the Cervantes Institute deals fundamentally with the linguistic and cultural heritage that is common to the countries and peoples of the Spanish-speaking community. It is present in 87 centers distributed in 44 countries across five continents.
The Instituto Cervantes it is the only specific quality accreditation system for teaching Spanish at an international level.
The Spanish Federation of Associations of Schools of Spanish as a Foreign Language regulates a status of quality for teaching Spanish in Spain. It holds cooperation with the Instituto Cervantes to assure a global policy on quality and on the international promotion of Spanish studies. The federation consists of 7 associations which hold more than 100 Schools of Spanish as a Foreign Language. The schools are located in Andalusia, the Canaries, the Valencian Community, the Community of Madrid, Castille and Leon, Catalonia, the Balearic Islands and the Basque Country.
The ranking is based on the following criteria (that we were able to research)
Popularity of the school
Prices
Location within the area
Organization of the school
Range of study programs
After class activities
Popularity was measured by Social Media followers and reviews from former students. To assure the ratings are reliable we only took Facebook and Google my Business reviews into account when at least 30 of those were given.
To honor low prices we calculated a two-weeks Intensive Spanish course with 20 hours of class a week and a stay at a host family. Since this is a standard offer it makes it possible to compare the course and accommodation expenses of the various schools.
The location was taken into account positively when the school is placed not further than 15 minutes walk from the beach or the city center.
Leisure time activities and excursions were considered such as special offers like a youth, senior or sports programs.
To evaluate the organizational level of the school we had a look at the number of languages they communicate their services in and if they offer educational leave.
Besides being accredited by the Instituto Cervantes and FEDELE, there are certain criteria which are indicators for high-quality Spanish schools.
Having a special teachers program is one of them, which is why we give a lot of credit to that.
It is the most recognized Spanish proficiency test on the globe, an excellent Spanish school will also help you get ready for and take the DELE Exam. This is why we gave credit for preparation courses and for being a registered DELE examination center.
Living in a digital world, being able to participate in online Spanish courses was also an important rating criterion.
We consider the fairness of the conditions a major deal for your study abroad experience. This is why we scanned the contracts of the schools and gave top points for student-friendly terms.
All schools that schedule their classes for 55 or more minutes got an extra point. If the study groups are limited to eight or fewer students it was also worth an extra credit for us.
Regardless of the quality of the school, there is a chance that you might not like the school or the course or the location – but you won't realize this until you arrive. Schools that take that into account and will refund your money even after you started the course got rewarded with an extra point. For any other specific advantage, a school gives to its language students we gave points.
⭐️ Before you start reading through the list please notice the fact that FEDELE has almost 100 members. Researching all of them made us even more aware that there is such a great variety of high-quality Spanish language schools in Spain. Every school has more positive aspects and selling points, but we couldn't take all of them into account. So, we have chosen specific criteria which we feel are the most important. 
Our Top 15 Spanish Schools in Spain
Taking into account all the criteria mentioned above, the best Spanish schools in Spain based on numbers are:
15. International House Valencia
If you're looking for a Spanish school, Valencia has some really amazing options. We know we don't need to twist your arm to learn Spanish in Valencia, but you might need help deciding on the best Spanish School. You'll find a few of the best Spanish schools in Spain are in Valencia which gives you the perfect opportunity to explore an amazing city.
Just studying at the International House in Valencia itself is a special experience. The Spanish lessons take place in a 153-year-old, renovated property. The 2100-square-meter Spanish school combines historic parts like 11th-century Arab walls with the modern. Every classroom is equipped with interactive whiteboards, natural light and air-conditioning, what more could you want to help you learn Spanish abroad?
You can enjoy your breaks and free time socializing in the student café or on their rooftop with sun loungers and a pool. To be able to handle all the sunshine in Valencia, the Spanish school provides showers so you can cool off and fruit trees that so you can also spend time relaxing in the shade.
All of this is located in the heart of Valencia's old town, so there is plenty of entertainment even outside of this oasis. If you want to study here it will cost you 670 Euro for a two-week intensive residential Spanish course in Spain. With a Spanish school like that, we have the slight feeling that your host family won't have you around that much.
14. Hispania Escuela de Español – Valencia
Just like the last school, Hispania Escuela de Español is a beautiful Spanish school in Valencia. Former students describe studying here as the perfect mix of a sunny city and great quality Spanish lessons with extremely helpful and friendly teachers. They also point out that the Spanish school provides leisure activities making it easy to socialize. You can choose activities from topics like "Discovering Valencia", "Nature", "Sports", "Tastings" and "Workshops and Concerts".
Their Spanish Plus Program allows you to extend your intensive Spanish course with another theme. You can either top it off with tennis lessons or courses of typical Spanish cuisine. The highlight of the second one is the possibility of attending a "Show cooking" with the Michelín Star winning chef Ricard Camarena.  The best way to learn Spanish, apart from Spanish classes in Spain, is to get involved and really explore Spanish culture!
The two-week intensive residential Spanish course at Hispania Escuela, including your stay at a host family with breakfast, will cost you about 755 Euro.
13. Cervantes Escuela Internacional – Malaga
The Escuela Cervantes is located in sunny Malaga. It offers Spanish courses for adults (and other age groups) at all language levels.  If you also want to take the DELE exam, they even guarantee you to pass! If you're looking for a Spanish school in Malaga and you want to pass your DELE exam, then this Spanish school is a good choice.
Other than the standard immersive Spanish courses you can study legal Spanish, the topic of Spanish tourism or Hispanic culture. You also have the option to extend your offer with afternoon flamenco classes. Every day they offer different leisure activities, such as guided walking tours through the city, spa days or hikes. The prices for these range from free to 50 Euros. The basic intensive Spanish course with 20 hours of classes a week and a stay at a host family will cost you 730 Euro at this school.
12. Tia Tula-Spanish School – Salamanca
The Tia Tula Colegio de Español in Salamanca is a Spanish school with a very international atmosphere. As their website is translated into 14 different languages you will find yourself studying with Spanish students from all over the world. While your classmates are international, the teachers will make sure you have the full cultural Spanish experience during your stay. The Spanish language is not the only thing professors at Tia Tula will teach you. Their goal is it to also make you understand the local way of thinking and living by teaching you all about typical habits and traditions.
The school is located in the pedestrian historical center of Salamanca. This will give you the benefit of views to historical and monumental landmarks during your classes. This is one of the best Spanish immersion programmes in Spain because you really learn about the culture as well as Spanish lessons. A Spanish immersion program like this is one of the best ways to learn Spanish fast.
With 650 Euro for a two-week residential Spanish course, staying at a host family, this school is an economical option for a Spanish course in Spain.
11. Proyecto Español Granada
Proyecto Español is a Spanish language school chain with locations in Granada, Alicante, Madrid and Barcelona. To learn Spanish in Spain you get a great variety of locations with their Spanish courses. Two of those made our list: Proyecto Español Granada and Alicante. With close results of 78.98 and 79.08 points, they hold the places 11 and 10. 
The Spanish school in Granada will give you a slightly better price of 680 Euros for a two-weeks intensive residential Spanish course, with a host family stay and breakfast included. The school has special offers like Spanish Summer Camps for teenagers and Spanish courses for families.
10. Proyecto Español Alicante
With a price of 680 Euros for a family homestay and a two-weeks intensive Spanish course, Proyecto Alicante is still one of the more budget Spanish school in Spain, which still offers quality Spanish learning.
Former students highly recommend the school with 4.8 out of 5 stars on Facebook and 4.9 stars on Google. They especially praise their friendly and competent Spanish teachers. Since the Spanish lessons are limited to a maximum of 8 students you will have the comfort of full support from your tutors. The Spanish school offers a youth Spanish summer program, a teachers training and Spanish online.
9. Tandem Escuela Internacional Madrid
Tandem Escuela Internacional Madrid offers a wide range of different course types you can choose from. Besides standard Spanish immersion courses for individuals, they offer Spanish summer youth programs, Spanish teacher training and a special program for companies. Through their "Spanish and a Passion" program, you can also choose to combine your studies with a range of set after class activities on a certain topic like art, flamenco or cooking. When you're choosing a Spanish school, Madrid is a great option if you're looking for the best nightlife. Of course, as a capital city, there's always something happening in Madrid.
Since TANDEM also holds schools in Granada and San Sebastian you can choose to book a traveling Spanish course and stay in all three cities during your time of studying the language without switching schools.
A standard intensive 20-hour Spanish course in Madrid with a host family stay would cost you about 720 Euro.
8. Instituto Mediterráneo Sol Inmsol – Granada
This Spanish school in Granada is one of the top Spanish schools in Spain when it comes to student reviews. Their average rating of 4.9* stars is proof of their client satisfaction. One of the reasons for the great feedback may be that they have a maximum limit of eight students for their Spanish classes. Their website is displayed in 14 languages which means you'll be studying in a very international environment, perfecting for meeting your future tour guides of other cities around the world.
The Spanish school is located in the center of Granada and provides the students with an IMSOL student card to benefit from discounts around the city. Together with a certified travel agency, they will arrange excursions to close by places like the national park Sierra Nevada where you can ski or the beaches of Costa Tropical. A city tour of Granada, workshops and debates on current events to practice your Spanish are included in the 842 Euro for a two-weeks intensive Spanish course.
For about 850 Euro you can stay with a host family in Madrid and participate in Spanish language classes of the best-rated school on Google. With a 4.9 review on Facebook and a 5 stars review on Google My Business the language school LAE Madrid clearly is an outstanding option.
The average Spanish lesson holds six people. They have special kids and a Spanish for families program. With Spanish being the second most important language for international communication, the school also helps businesses to become more competitive through company Spanish course offers. After Spanish lessons the school keeps you entertained through after-school activities in Spanish like sports, excursions, and cultural experiences.
6. Linguaschools Barcelona
Linguaschools is the place to be when you are looking for a Spanish school in Barcelona. All the cultural opportunities, a vibrant nightlife and being close to the beach make it easy to connect with people in the school and learn Spanish in Barcelona. The Spanish school itself is consists of a precious colonial building with a beautiful small garden.
Even though they did not make it to Instagram yet their Social Media and business ratings can keep up with our number one top school. Their Spanish classes in Barcelona last 55 minutes, which is way above average. You can choose their service out of 9 languages on their website. For a 2-weeks intensive Spanish program, staying with a host family, they will charge you 730 Euros. A double room is available only when booked together. If you want to learn Spanish in Barcelona then this school is a really great choice.
With 920 Euro for the set offer, Inhispania is the priciest of our top 15 schools. Losing rating points for the higher costs and still making 5th place in our list means it's are definitely worth the price! More than 10 000 people follow Inhispania on their Social Media channels, former students review them with 4.8* stars and their website is visible in 13 different languages. The Spanish school in Madrid is in one of the best areas, the intersection of Gran Via and Alcala to be specific. They arrange daily activities during the week and excursions to other Spanish cities close by during the weekends.
4. FU International Academy Tenerife
Our FU International Academy is based on the beautiful island of eternal spring; Tenerife. You will be living in a colorful beach city, Puerto de la Cruz. Former students especially value the friendly atmosphere and highly recommend our Spanish school, in a Spanish speaking country, with 4.9 out of 5 stars. 
Of course, the best way to learn Spanish is in Spain but the weather isn't guaranteed to be sunny all year round. Here in Tenerife, we have sunshine and spring temperatures more than 300 days of the year! So, if you want a Spanish course somewhere sunny you should visit us at our Spanish school in Tenerife.
Our very own FU Café and our sunny terrace make it really easy to socialize and meet new people. You can enjoy your coffee relaxing in the sun loungers or enjoy a game of ping-pong after lunch. For those of you who like to be even more active, you can join the basement gym for 27 Euro a month.
Besides various leisure activities that take place every day during the week, we will arrange trips for you to explore our stunning island during your stay. You can also combine your Spanish course with a surf course to create the perfect island experience. For the offer compared in this ranking, we would charge a price of 783 Euro. Since we are convinced that students have amazing, even life-changing experiences while staying here, we will refund your money if you're not happy with the course. However, the more common case is students extending their stay and wanting to stay forever in our little paradise.
3. Taronja School – Valencia
Even though it is the third Spanish school in Valencia we have listed, Valencia's go-to place for learning Spanish seems to be the Taronja School. They give great importance to the social and cultural integration of their students and have a schedule packed with fun activities in the school and around town. The School calls itself the best-located language school in Valencia – and they might just be right. It is located in the Pedestrian street in the city center of the beach town. 
Compared to the other two Spanish schools in Valencia listed here, it is the most costly option. Spending your time studying Spanish in the halls of their beautiful 19th-century building while staying with a local host family will cost you 789 Euro. However, when it comes to Spanish language immersion programs this is a beautiful location to study Spanish abroad.
2. Spanish Courses Unamuno – Salamanca
Unamuno is a great place to learn Spanish. Their two-week intensive Spanish course offer, with half board in a host family's single room for 600 Euro, makes this Salamanca based Spanish school a really good deal. It's one of the best cheap Spanish schools which also delivers on quality Spanish lessons.
However, it's not just their prices which are attractive. With a 4.9* average review it got excellent recommendations by former students, which are mostly written in Spanish. Since Unamuno is aware of its high-quality classes and satisfied students they even promise a money-back-guarantee in case you feel their Spanish course doesn't hold what they promise on their website.
Numbers don't lie – and when it comes to numbers the Ail Madrid Spanish language school beats all the other Spanish schools. With a price of 810 Euro, this is not a low budget school. But quality has its price and the Ail Madrid Spanish school can easily prove why it is worth it!
Their follower base of more than 40k Social Media fans rank them with an average of 4.8 (out of 5) stars. The Spanish school in Spain offers 24 Spanish courses and takes care that their classes have a maximum of 8 students.
Their services are displayed in 19 languages on their website. Besides more than 60 afternoon activities that vary during your stay, you can combine your Spanish study course with another hobby and collect a double course such as Spanish and dance, Spanish and art or Spanish and cooking. All of this in the heart of the young, vibrant and modern metropolis of Madrid. 
The only thing we are missing for perfection is a youth program for the young ones to enjoy all the benefits of this great school early on.
Congratulations to the well deserved first place on our list of best Spanish schools in Spain.
After all, every school is unique in its own way and has its reasons why studying there could be the right choice for you. Even though we couldn't cover every amazing Spanish school in Spain, we hope to have helped you in your process of finding your perfect place to learn Spanish abroad.
This article is based on the numbers in December 2018 and the results are all rounded to the nearest number. 
*out of 5; as a rating, we took the average of the Facebook and Google my Business reviews
​​Would you like to take your Spanish to the next level?
Whether you're a complete beginner or you're an advanced student, with us you'll reach the next level of Spanish quickly and easily. With 24 Levels to Spanish fluency, the next level is always close by, so you will never lose motivation.
You can choose between:
In both cases, you'll learn Spanish using our successful 24 Level System to Spanish Fluency® and our unique Spanish teaching methods.